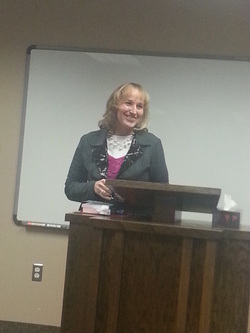 The last three weeks have been very busy. I have spoken to three different groups from Syracuse to Orem, Utah. This is a cell phone snap shot while I was
speaking to the ChainBreaker Foundation.
Now my calendar has been cleared and I am looking for more opportunities to speak. If you have a group you would like me to speak to, please contact me at
speak@ShawnaDraper.com
and I will be happy
to discuss the details with you.
In the meantime, since many of you have come to my events and purchased my books, I would love to hear your comments about either the speaking event you attended or how you felt when you read one or both of the books currently in print.
To those of you who have suffered any form of abuse, my heart goes out to you and I hope you
will find hope in reading my story, that no matter how bleak your life may seem right now, it can and will get better. May God be with you in your journey.
To those who have not suffered personal abuse, I hope you are able to find out who God wishes you to
reach out to and that you will be the hero in someone's life, just as many
people have been the hero's in my
life.